National Museum of Bargello
The enormous Entrance hall on piers with solid vaulting has heraldic decorations on the walls with the coats of arms of the Podestà (13th-14th cent).
.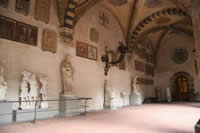 From here to the scenographic Courtyard which is irregular and unique. The coats of arms of many podestà are here and, under the portico, the picturesque insignia of the quarters and the districts into which the city was once divided. Various 16th-century statues set against the walls are by Bandinelli, Ammannati, Giambologna and Danti.
The courtyard leads to a Hall with a collection of 14thcentury sculpture, including Tino da Camaino's Madonna and Child with Angel, a meditating Madonna and Child of Venetian school, the base or a holy water stoup by Nicola Pisano and a Madonna between St. Peter and St. Paul by Paolo di Giovanni. In the Room close ro the open staircase are important works by Michelangelo: the Bacchus (1470), an early work of great power despite the softness of form, the Pitti Tondo, with the Madonna teaching jesus and St. john to read, the David or Apollo and the Brutus.
There are also works by Ammannati, Giambologna (including his famous Mercury of 1564) Tribolo, Danti, Francavilla and Sansovino who made a Bacchus of his own to compete with Michelangelo's. The bronze bust of Cosimo I by Cellini, made for Portoferraio in Elba and brought back in 1781, is also in the same room. The Open Staircase, leads to the loggia, ornamented with various works by other 16th-century artists.
The first room to the right, once the Salone del Consiglio Generale, is now the Donatello Room and contains many of his works such as the St. Geotge with its self contained energy, made for the niche in Orsanmichele, the young St. John, slender and mystical, the marble David and the bronze David, the first delicate Renaissance nude made around 1430. Also by Donatello are the Marzocco, the symbol of the city, and the lively bronze Amor-Attis, are revealing a classic influence. In addition to works by Luca della Robbia, Ghiberti, Vecchietta and Agostino di Duccio, the room also contains the trial panels which Ghiberti and Brunelleschi made in 1402 for the competition (there were six contestants) for the second doors of the Florentine Baptistery.