Michelangelo's Pieta
This well-known sculpture, Michelangelo's Deposition, was originally located in the Duomo. The central figure has been interpreted as a self-portrait of the artist. The Pieta was sculptured between 1550 and 1553 by Michelangelo for his chapel in S. Maria Maggiore in Rome. It remained, however, in the underground storerooms of S. Lorenzo until 1722 when it was transferred to the Duomo.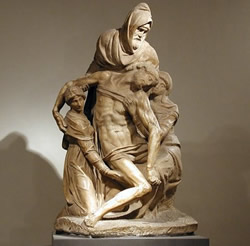 It is probably one of Michelangelo's most dramatic pieces, an example of his painterly use of rough shaping (his famous "non-finito").
The restoration of Christ's left arm and the figure of the Magdalen were carried out by his pupil Tiberio Calcagni.