Duomo Works Museum
The Museo dell'Opera del Duomo is located across the apse of the Cathedral of Florence and includes artworks from the Duomo, the Campanile and the Baptistery.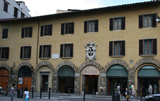 Over the entrance is the Bust of Cosimo I, made by Bandini. Inside are Romanesque sculptures, statues and remains of the original facade of the Duomo and the Baptistery. Works on the ground floor include the statues of the Blessing Boniface VIII, Arnolfo di Cambio's Madonna and Child and his Madonna of the Nativity.
In a nearby room you find books, illuminated chorales and reliquaries. On the first floor is the room with the chariot, by Luca della Robbia (1431-1438) with ten relieves inspired by the joyous Psalm of King David, and Donatello's choir-loft (1433-1439), with a severe architectural layout inspired by classica I antiquity. These two masterpieces in marble were removed from the Duomo in 1686 by Ferdinando de' Medici. The same room contains the statues which once stood on the Campanile, such as Donatello's figures of the prophets Habacuc, known as lo Zuccone (Pumpkin head), and Jeremiah, and Nanni di Bartolo's Abraham and Isaac. In the room to the left are to be found the original panels from Giotto's campanile, arranged in their original order.
On both sides are statues of the Virgin of the Annunciation and the Archangel Gabriel, accredited to Iacopo della Quercia. Other examples of painting and sculpture which draw our attention in the museum, apart from Michelangelo's Deposition, include an important diptych with Stories of Christ and the Madonna, late 13th-century Byzantine school, and above all, halfway down the stairs, the Magdalene, an intense wooden statue by Donatello.
The almost feverish execution and the material itself make this pathetically moving work seem real. The figure belongs to Donatello's last Florentine period (to be dated between 1435 and 1455) and recent restoration has restored it to its original colouring. Back on the ground floor it is of interest to study the drawing dating to the second half of the 16th century which depicts the original facade of the Duomo, before it was torn down in 1587, and the placing of the statues and architectonic decorations, many of which were salvaged and are on display in this same room.